If you are a pet parent, when planning a vacation, you must consider what to do with your pet during this time. You can leave it in the care of your relatives or friends, find a pet hotel for it or take it with you. If your dog is very attached to you and you like spending time with him on vacation, the latter option seems to be the most reasonable. What should you know when planning a trip with your dog? What to remember? What might you need if you go abroad?
Choosing the right place to go
When going on a trip with your dog, remember that not everywhere animals are welcome. Therefore, when looking for a hotel, guesthouse or recreation center, it is necessary to check whether dogs are allowed there, under what conditions (sometimes centers only accept small breeds) and whether there is an additional fee. You should take into account not only your own comfort, but also the needs of your pet. For example, a not particularly good place to go with a dog will be very hot regions, where the pet will actually spend the entire vacation sitting alone in an air-conditioned room.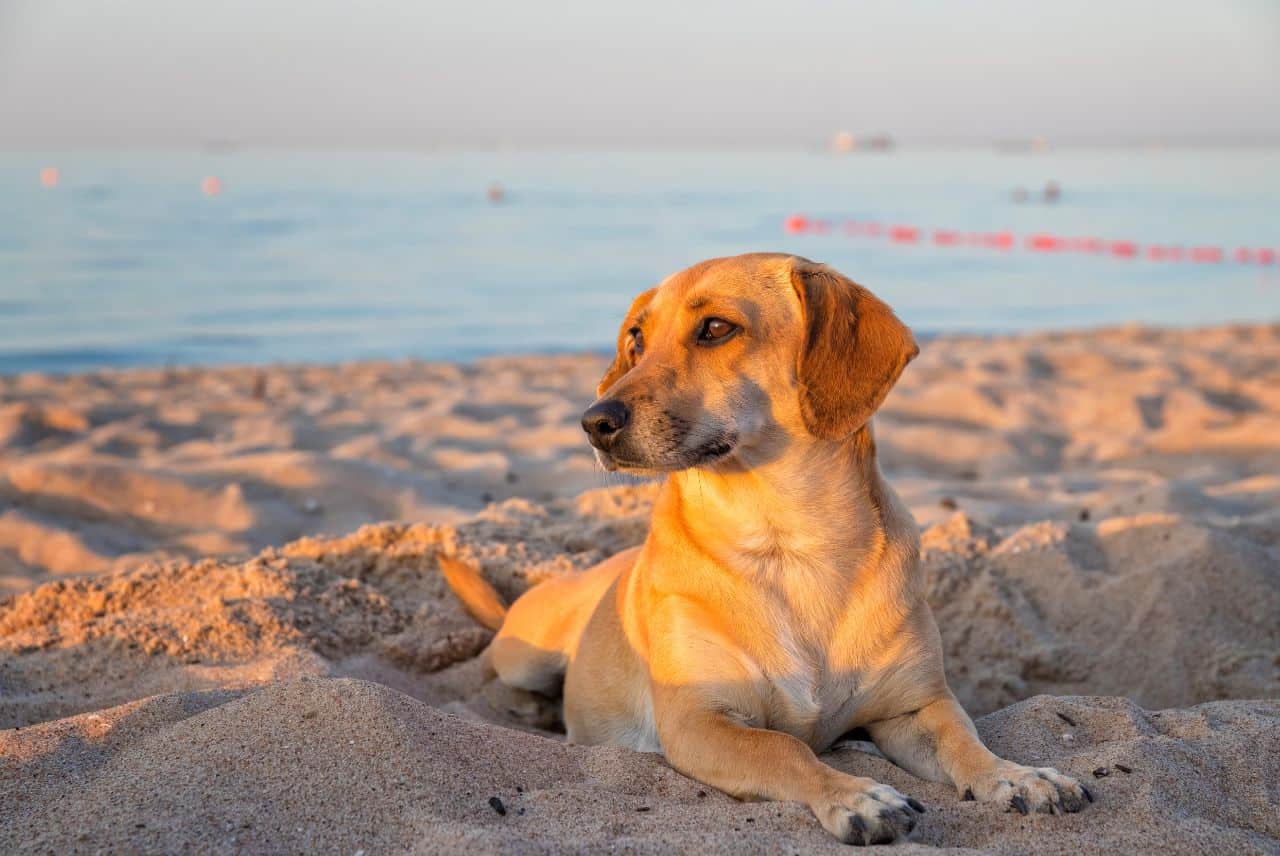 Holiday layette for your dog
When packing for a holiday with your dog, remember to create conditions similar to those at home. What should be included in a travel kit for your dog?
food that the dog eats every day in enough quantity to last the entire trip (preferably with a small supply),
bowls – separately for water and food,
a collar and/or harness and a leash used every day at home,
muzzle – even if it is not used every day, it can be useful when traveling, e.g. on public transport,
health booklet,
first aid kit with basic accessories, including: medications taken by the dog, disinfectant, gauze, bandage, tick removal device,
den,
shampoo and towels – especially if there is a chance for muddy walks and bathing in water reservoirs,
toys, preferably your favorite ones
Plus optional:
brush for brushing fur
dog passport with current entries – in case of traveling abroad
treats if your dog gets them every day
If you want to prepare homemade treats for your dog, perfect for a trip, check out the article: "How to prepare dog treats?".
Safe travel
When going on holiday with your dog, you must remember to ensure a safe journey. If you are planning a car ride, create a comfortable place for your dog where he can sit or lie down comfortably. Large dogs usually travel in the trunk – it is a good idea to equip it with an additional anti-slip mat. If you transport your dog on the back seat, be sure to put on an appropriate harness with a seat belt buckle.
The smallest breeds can be safely transported in dedicated carriers, which also need to be secured with belts – otherwise, during an accident, such a loose carrier may become dangerous for passengers and the driver under the influence of collision forces. When traveling by car on holiday with your dog, remember to take breaks for yourself and your pet for a short walk and a drink. If you plan to travel by public transport, find out in advance what the rules are for transporting animals – especially when flying by plane.
Traveling abroad with your dog
Some dog owners cannot imagine any trip without them, even abroad. However, if you want to take your dog to another country, you need to plan your trip well in advance. First of all, the pet must have a valid and valid dog passport (details in the next paragraph) – this is the basic requirement for traveling outside Poland. In most European countries, a passport with a current rabies vaccination entry is sufficient for the dog to cross the border. However, there are countries that impose additional conditions, e.g. Great Britain, Ireland, Malta, Norway and Finland require additional treatment against tapeworm Echinococcus multilocularisand dogs of breeds considered dangerous are not allowed to be imported to countries such as France, Lithuania or Cyprus (detailed lists of breeds banned in a given country can be found on the Internet).
Traveling outside Europe usually requires additional preparations (e.g. determining the level of antibodies against rabies) and documents (e.g. EU animal health certificate). You should be aware that completing the formalities may take up to several weeks! It's not worth leaving it to the last minute. Going abroad with a dog also requires proper planning of transport – a long car journey requires planning an appropriate number of stops, and a plane flight is subject to many rules established by airlines.
Before leaving, it is also worth checking whether the dog is feeling well. In this article "10 dangerous symptoms of disease in dogs"you will see what to pay special attention to.
How to get a passport for a dog?
To obtain a passport for a dog, you must go to a veterinarian authorized to issue passports. For everything to be legal, the dog must be microchipped and vaccinated against rabies. In some cases, an additional clinical examination before departure and/or additional tapeworm treatment is required Echinococcus multilocularis (as mentioned above) made in good time before crossing the border. How much is it? The official price for issuing the document itself is currently PLN 100, but any other activity (vaccination, deworming, clinical examination, blood collection, anti-rabies antibody test, etc.) is an additional cost for the guardian.
What else is worth knowing when planning a trip abroad with your dog?
First of all, you need to know the legal regulations regarding the transport of animals to a specific country, because they are different and may change. The necessary information can usually be found on consulate websites, and if something is missing, it is worth calling and asking. Please remember that it is not possible to transport a dog outside Poland without valid vaccinations against rabies. If the vaccination was performed for the first time or the next vaccination was not performed on time (in Poland, vaccination is currently obligatory every year), the dog cannot leave for another 21 days.
The exception are puppies under 16 weeks of age, which should then travel with a vaccinated mother or with an additional declaration from the guardian that they have not had contact with wild animals since the day of birth. If you want to transport more than 5 animals at the same time, they must be at least 6 months old, and you must also have confirmation that they will participate in a competition, exhibition or sporting event. Remember! It is not worth trying to bend the regulations, because it may result in your dog being expensively quarantined, sent back to Poland at your expense, or even euthanized by the authorities of the destination country.